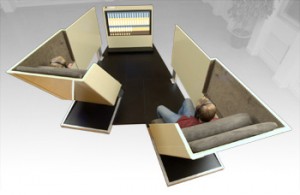 Show Unit operates as a mobile environment for the display of video art. Swedish Travelling Exhibitions (Riksutställningar) is a governmental body responsible for producing travelling exhibitions and for developing the artistic, educational and technical aspects of the exhibition medium. The brief required a unit that could perform in very different conditions, while alerting visitors to its presence.
design stages
Show Unit was initially conceived by producer Anna Livion Ingvarsson, with program refinement during the early design stages. A design strategy was produced for May 2003, and based on this material, Riksutställningar decided to produce the installation. The design is based on the brief of two visitors / viewers being able to view selected pieces of video artwork in a partially enclosed space, while still maintaining distance to each other. Two mirrored partitions / seats define the space, and can be reconfigured depending on the conditions of the exhibition area. Show Unit was constructed and produced in the workshop at Riksutställningar, with close contact between designer Jonas Runberger and technician Karl Gustav Jönsson, and while complete construction drawings were the starting point, many design enhancements were made during the fall of 2003. The entire installation is transported in four boxes, and can be assembled by novices in less than an hour.
Ylva Gunterberg Ädelqvist and Emilia Claesson provided great support on design and material issues. Additional information and graphic material was designed by graphics duo Andreas & Fredrika, including the Show Unit logotype, the information display on the physical installation itself, the information booklet located in the shelving areas of the installation and the official poster. Jonas Runberger designed the screen saver / pause film as an animation based on the logotype.
components
Show Unit is constructed in light weight laminated wood, sandwich material and welded aluminium. Surfaces are treated with high gloss laquer on the main parts, with textile sides by the seating areas. The artwork is shown on a Nec Plasma screen integrated in the overall design. Detailing includes laminated screens for graphics display, a perspex control panel incorporated in the display screen and slits for booklets and other information in the sides.
content
The selected work currently displayed in Show Unit is divided into three packages, curated by Anna Livion Ingvarsson of Riksutställningar. Under the topics of "En medierad värld / A Mediated World", "Övertag / Control" and "Från denna plats / From This Place", the work of the 17 artists feature animation, documentary and sound based films.
opening and tour
Show Unit opened at Ölands Folkhögskola 20.11.2003. The exhibition toured Sweden until 2007, and was then refurbished with a new color scheme, and is now touring with the exhibition Fokus Kina.
Detailed information on the tour and participating artists can be found at: www.riksutstallningar.se