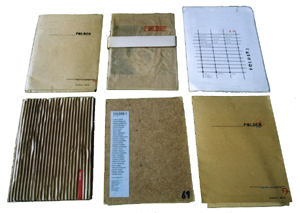 Folder was established as an independent art and cultural magazine in 1996 in Gothenburg, Sweden. Each issue was administered by a different individual, but no overall editors existed. Folder had an edition of 90, which made it possible to include both copied and printed material, as well as originals. Each contribution was duplicated by its creator, who also was responsible for its contents. No censorship was practised. Three rules governed contributions:
– The material should have a lasting artistic value
– The contributor should turn the medium to the best use
– A given format was to be followed, unless the contribution had specifics of its own (such as a postcard, CD or a cassette). All issues ended up in A4 however. These regulations were open to interpretation.
co-founders: Fredrik Jönsson, Johannes Giottas, Jonas Runberger and Henrik Törner